This series will always be my entire heart. Waiting was my debut, and it is the book I always wanted to write. It is the book that I dragged around, terrified to finish, for far too long. And it will always be the one that ultimately made me leap. I love this story of Reed Johnson, the perfectly imperfect hotshot quarterback and talk of the town, and the simple, heart-on-her-sleeve tomboy Nolan Lennox. This story is real, it's hard, and it's full of laughter, heartbreak, happiness, sorrow and everything that makes up that stuff that is our youth and ultimately shapes who we are as adults. Thank you, dear readers, for embracing these stories.
Waiting on the Sidelines (Book 1)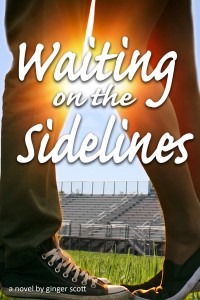 Girls can be cruel. Young love can be devastating. And high school can make you question everything you thought you knew about yourself. Nolan Lennox had things figured out. Named after a baseball legend, she enjoyed being the Tomboy, her closet filled with her brother's hand-me-downs, cut-off jeans and soccer shorts. But when she overhears the first boy who ever made her heart flutter and a girl she once thought a family friend verbally attack her, Nolan starts to question the very person she thought she was and wonders if being plain, humble and simple can compete with fast, rich and aggressive.
Reed Johnson came to Coolidge High School with a lot of fanfare. The son of a hometown football legend and the brother of a local football hero, Reed wore all the pressures of carrying a town without hope into the spotlight. Thankfully, he had the talent to back it up. But when he meets a girl who makes him think twice about exactly what being a hero means, he starts to wonder if following in his brother's footsteps might be all wrong. Nolan Lennox was everything that was opposite of expected. She didn't flirt, she didn't drink and she didn't sleep around. Nothing about her was easy, but something about her made Reed want to try harder. Though she didn't look the part, she seemed to be spending a lot of time in Reed's thoughts, and he wondered if she could be the one who made it all worthwhile. But could Reed handle letting her down? And would breaking her heart break him beyond repair?
Waiting on the Sidelines explores young love to its fullest, exposing how real young heartbreak and passion is and how important it is to discover yourself and hold onto your own identity. The story follows two young characters as they deal with mature situations, including the prevalence of bullying and promiscuity in today's high school setting. Ultimately, Waiting on the Sidelines is a story of hope, honesty and those powerful, first true loves—the ones worth holding onto at any cost.
Character-driven, Waiting on the Sidelines is very real and takes you along for every heartbreak, celebration and moment of self-doubt Nolan has as she becomes a woman. Readers experience the rush of Nolan's first kiss as well as the crushing shame she harbors over her own weakness and inability to stand up to her tormentors. Ultimately, you are immersed in the small town and will come away feeling as if you are also one of Nolan's closest friends, and possibly in love with the same, irresistible boy she is.
Buy it now on Amazon | Kobo | Smashwords | B&N | iBooks | Google
Going Long (Waiting on the Sidelines 2)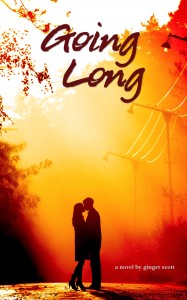 They fell in love in high school and found their way back to one another despite the odds. But can first loves really be forever? For Reed Johnson, the dream was always football. But then Nolan Lennox took over his heart. Is he willing to give up his first love just to keep his true love? Or will he be too late?
Reed and Nolan's story continues in "Going Long," sequel to "Waiting on the Sidelines."
Available now on Amazon | Smashwords | Kobo | B&N | iBooks | Google
Watch the Waiting on the Sidelines video trailer!